How to Change WordPress Permalink Setting?
change WordPress permalink setting
Do you want to change WordPress permalink setting on your website?
Permalink is used by the search engine to index the content. With the help of permalink, visitors identify the unique piece of content on your website. The best permalink structure of your website should be SEO friendly and easily identifiable.             
In this article, we will learn how to change WordPress permalink setting on your website.
What is Permalink?
Permalink is the permanent URL or address of the post, pages, category and tags where your content are stored permanently. The visitor can use this address to visit your website. It is also indicated as a friendly URL.  It is good to remember and easy to scan for bots. The semantic URL also helps to increase the rank of posts. 
For example

 https://example.com/?p=125/
What is the best custom permalink structure?
There isn't any thumb rule for the best custom permalink structure. However, most of the website uses the custom permalink structure of the post name. We recommend using the category and post name because it allows fitting multiple keywords in a single permalink. If your website publishes content on a daily basis like newspaper, then day and name option is the best permalink structure in WordPress for your site.
For example https://example.com/category/postname/
How to change WordPress Permalink Settings?
The default permalink WordPress settings are neither optimized nor user-friendly. It is better to use a permalink URL that is good to the human eye and easy to remember. That is why you should change WordPress permalink into an easily identifiable. 
WordPress offers an option to change structure of permalink on your website.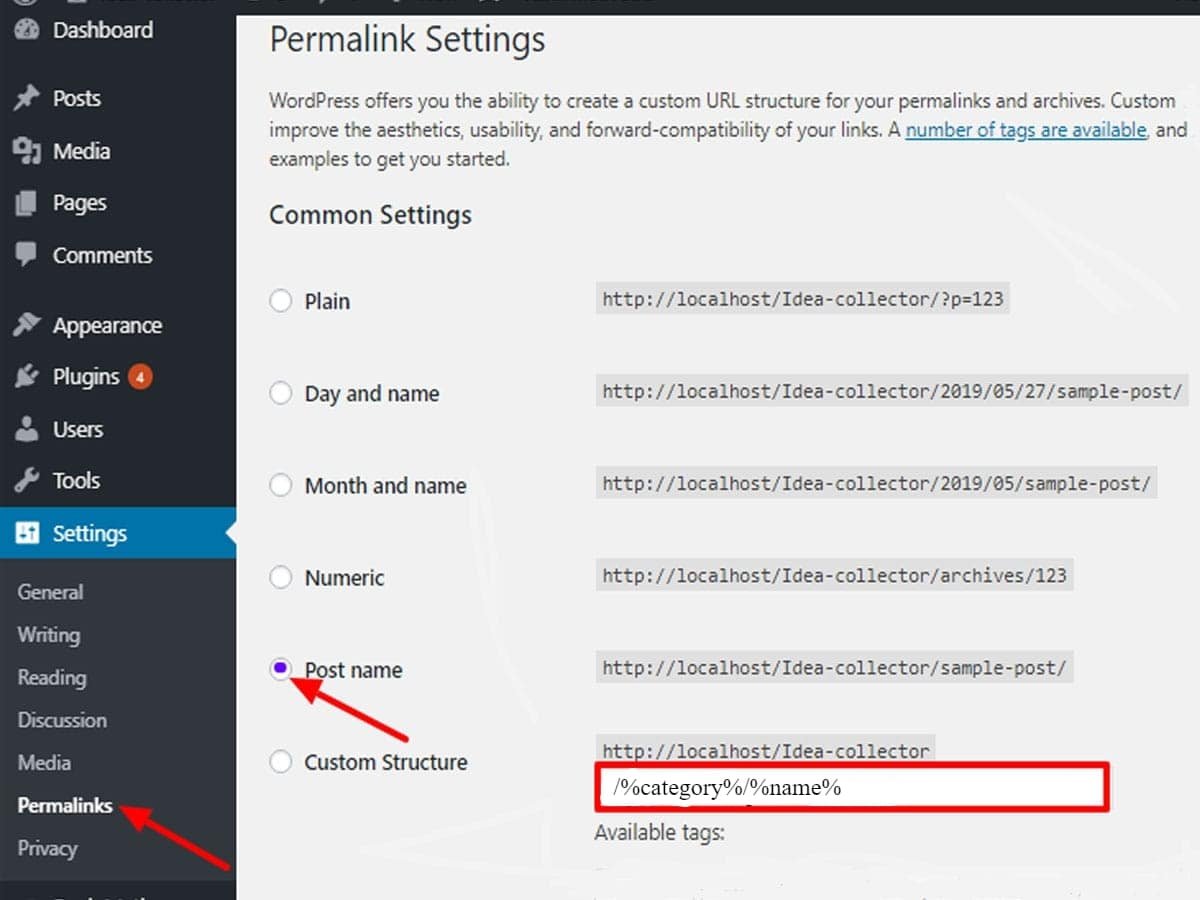 Log in to admin panel of your website. 

Navigate to the

Settings>>Permalinks.

You'll see the six permalink structures.   

Select any one permalink structure that is best suitable for your website. I have selected a post name for the sake of this article. 

You can also create your custom permalink WordPress.

Click on the

save

button to save the changes.
Each time you change permalink setting of your WordPress website, it will affect the URL of the old post, page, and contents. That may cause a 404 error. You can generate a redirection to point old post to a new one to redirect visitors from old permalink to new permalink.
That's it! You have successfully changed WordPress permalink setting into SEO friendly and attractive URL.
Wrapping Up
Hence, you can change WordPress permalink setting into a user-friendly structure. If you find this article helpful, don't forget to join our newsletter for more informative articles and follow us on Facebook and Twitter.