How to Clear WordPress Cache (Step by Step)
 Clear WordPress Cache
How often do you clear your website cache?
Clearing website cache is a perfect solution to WordPress problems like update not showing up, WordPress login issues etc. It is also the best way to boost the performance of your website.
In this guide, we'll learn how to clear WordPress cache via using plugin.
Why you Should Clear the Cache in Your Website?
User of different cache plugins might create caching files on your website. Cache helps to reduced latency and increases speed. However, if you can't see the recent uploads and changes you made live on your website then it's because of your website cache. In order to solve this problem, you need to clear WordPress cache manually from time to time.
Having said that, let's get started:
Clear WordPress Cache 
The best way to clear WordPress cache is via using a plugin. First of all, install a plugin on your WordPress dashboard and activate it. Here, we'll explain how to clear WordPress cache by using a few popular plugins.
WP total cache is one of the most popular plugins loved by many WordPress users. It is very easy to clear cache pages using WP Total Cache plugin.
First of all, login to your website admin.
Go to Performance>>Dashboard page.
Then click on empty all cache button at the top.
WP Fastest cache is a good plugin to delete cached contents. You can easily delete all cache files with the help of WP Fastest Cache.
Go to WP Fastest Cache tab.
You'll see the delete cache tab. Now, click on it.
Fianlly, hit the clear cache button.
WP Super cache is one of the best plugin to clear all cache with just one click. Follow these steps in order to clear cache on WP Super Cache: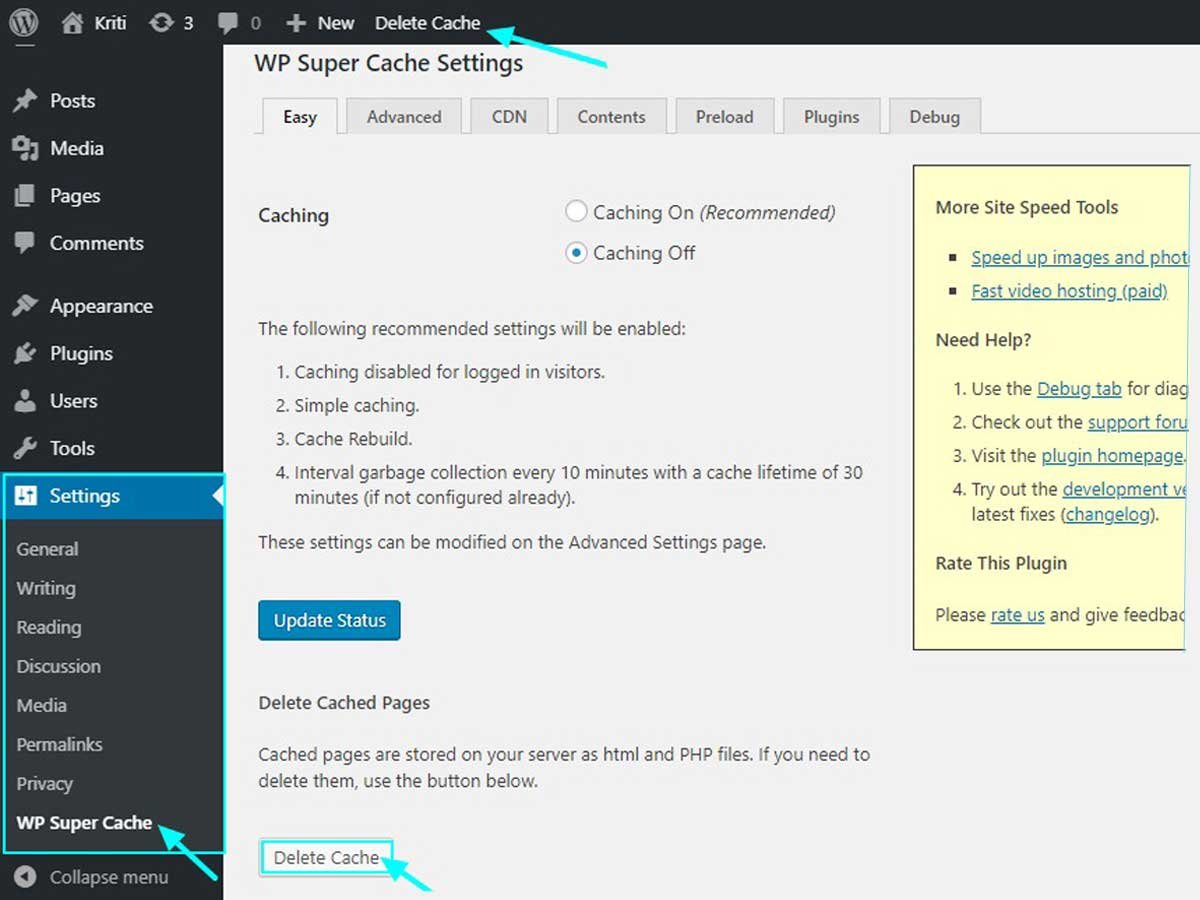 Navigate to Settings>> WP Super Cache.
Next, scroll down and click on delete cache button.
If your website isn't showing any updates even after clearing website cache then you need to clear browser cache. Beside this, you can also ask your hosting provider to clear your website cache for you.
That's it! You have successfully cleared cached data on WordPress.
Some FAQs
1. Why can't I see the recently published post in WordPress live site?
If you can't see the recently published post in WordPress site then it because of cache present on your website. To solve this problem, all you have to do is solve your sites cache by following the methods mentioned above.
2. Does cleaning cache help me to increase site performance?
Yes, it does. Cache plugins are speed optimized and hence, it increases your site performance by cleaning your database, compressing bulky images, and caching your site.
Conclusion
Thus, this is how you can clear WordPress cache and increase the efficiency of your website. I hope you find it helpful. 
Please follow us on Facebook and Twitter to stay in touch with us.
If you have any questions regarding this tutorial, then write us down in the comment section below: