How to Use WordPress Dashboard
Use WordPress Dashboard
Are you wondering how to use the WordPress dashboard to its full extent?
Most of the beginners aren't quite familiar with the true power of the WordPress dashboard. It provides a block of important information about your website. It displays updates, statics, and overview regarding your website. Also, it displays a few useful links for performing some common tasks instantly.
In this article, we'll learn how to use WordPress dashboard.
What is WordPress Dashboard?
WordPress dashboard is the first page you see on the screen when you log in to WordPress admin area. It is a powerhouse of information. It is a fantastic tool that gives a quick glance overview of the current state of your WordPress website. You can save a lot of effort and time if you use it properly. 
Note: WordPress dashboard and the WordPress admin panel are not the same entities.
How to Use WordPress Dashboard?
WordPress dashboard has many widgets which contain quick links to other sections and modules.
Welcome to WordPress!
This widget is typically useful for beginners. If you are new to WordPress, you will see the 'Welcome to WordPress' message on the top of your dashboard. It also contains a few handy links that can help you get started. You can change the theme, turn off/on the comments, view your site, write your first blog, create about us page and many more from this module.
At a Glance
You can use WordPress dashboard to get an insight about your WordPress website. It provides you with a snapshot of what's happening on your WordPress website. It is useful to get information related to the blog's posts, pages, comments, theme, and spam. Additionally, it allows you to see the number of total posts, pages, comments and the link to those respective pages. Also, It gives insight about the version of your WordPress and many more.
Quick Draft
Quick Draft is a simple editor that is very useful to write down your ideas. It allows you to create content instantly and save it as a draft on your dashboard. It also has a link to the five most recent draft so you can edit and publish it.
Note: You can't style text or insert media from the quick draft. However, you can edit the draft by using the editor of post section.
Activity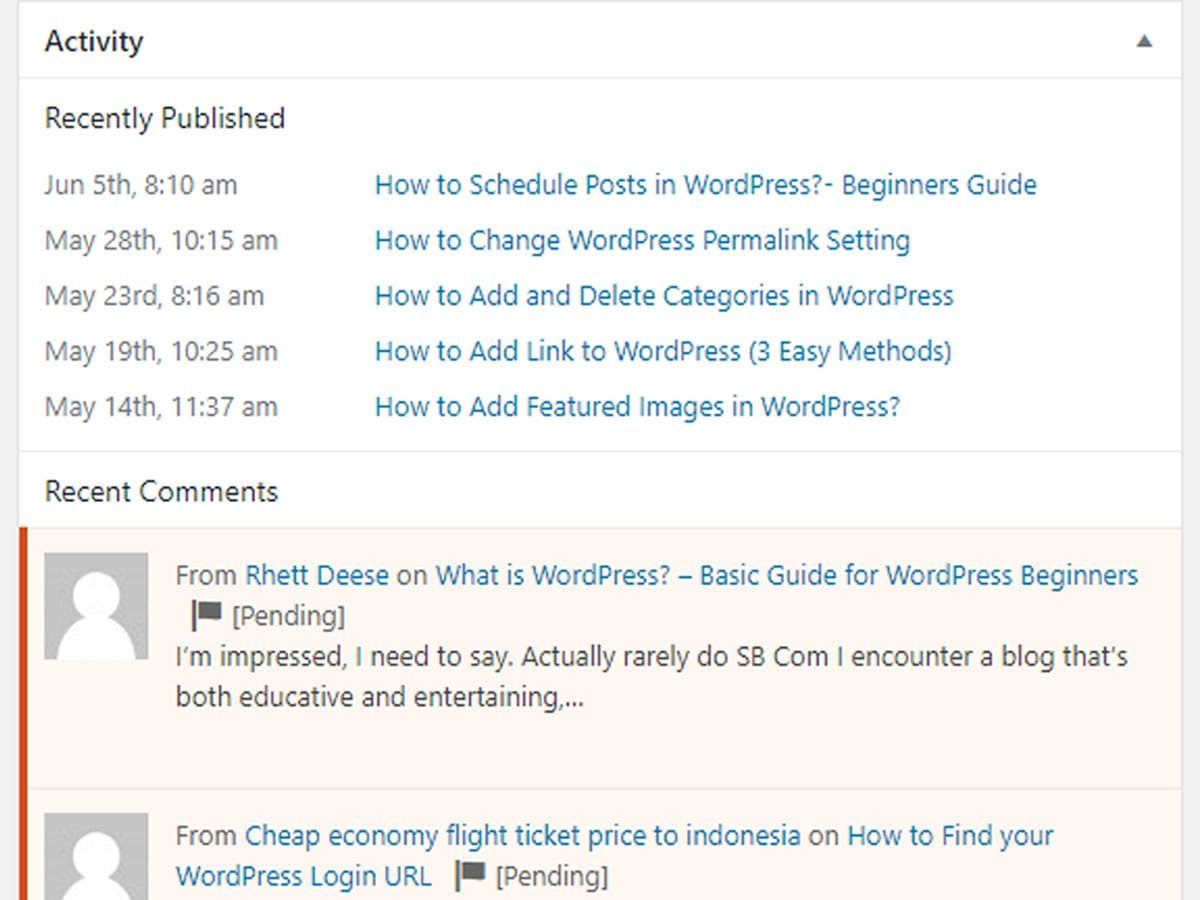 Activity module is the fastest and easiest way to work with the comments. It comes with a separate section which shows you recent comments.  You can directly reply, approve or trash a comment from here. It also displays recently published posts and pages with its time and date of publication. 
WordPress News and Event
This module shows the latest updates, events, news from the WordPress communities. Here, you can also find a useful blog, posts from the official WordPress website like WordPress.org and WPTavern. It is also useful to find the suggested plugins for your website.  
Custom Module
Besides the default dashboard module, many plugins add its own widget on the dashboard automatically upon installation. For example, if you have installed the jetpack plugin then a new custom module is added that will index how much traffic your website has received in the past few days.
Wrapping Up
To wrap up, you can use WordPress dashboard to get the insight about your website and increase efficiency. If you find this article helpful, don't forget to join our newsletter for more informative articles and follow us on Facebook and Twitter.