Wix VS WordPress- Which One Should You Choose?
If you are debating whether you should use Wix or WordPress to create your website then you are in the right place. Both WordPress and Wix are comparatively popular and widely used website tools available on the web market. In this blog, we'll discuss on Wix Vs WordPress and which one should you choose. 
What is Wix?
Wix is a well-known drag and drop website builder tool. It provides its own paid and free web hosting as well as domain name to its customers. Also, Wix comes with all the designs and functionality necessary for creating a beautiful professional website.   
WordPress is an open sources content management system(CMS). Nearly 33% of websites are powered by WordPress. It is well known for creating blogging, magazine, eCommerce and other kinds of niche-based websites. 
Sony Music, Microsoft News Center, MTV News, BBC America, etc are some of the sites powered by WordPress. 
Having said that, let's see the comparison between Wix vs WordPress – Which one is should you choose on the basis of the following points:-
Design and Customizability
SEO
Ecommerce
Plugins and Themes
Pricing
Security and Support
WordPress Themes/Plugins Vs Wix Themes/Apps
Wix:
Wix has comparatively less number of plugins and resources available for you. Wix has around 500 themes and templates which is far less than WordPress. Also, it has a very small collection of apps i.e ~300. The free plan offered by Wix doesn't allow custom domain names.  However, it also provides high quality coded templates and apps. All together, Wix is all about quality over quantity.
WordPress:
WordPress has huge resources and library consisting of 55,000+ plugins and 12,000+ themes. You can find both free and premium WordPress themes and plugins. There is a plugin for every feature that you want to add in your site. WordPress trusted companies offer quality and security in its themes and plugins. But normally the quality of products developed by other company ranges from low to high.
Conclusion:
Overall, WordPress is the better choice over Wix.
Design and Customizability: Wix vs WordPress
Wix: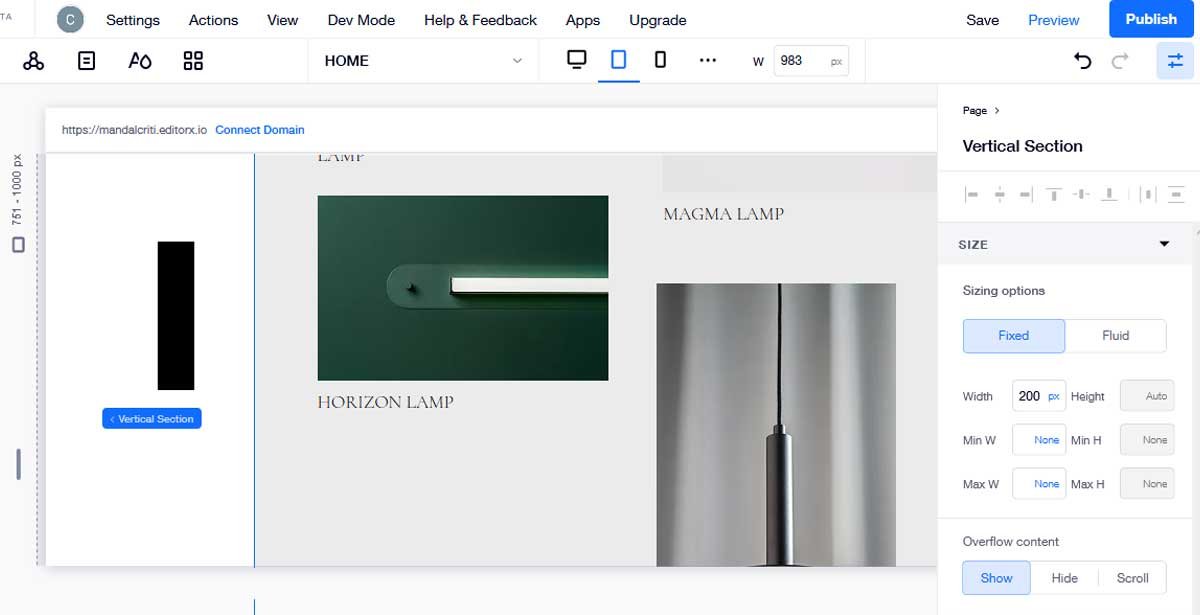 Wix is a WYSIWYG that lets you customize your site in drag and drop interface. It is easy to use and beginner-friendly but less customizable. That means Wix editor provides few features and less flexibility when it comes to website design and customizability. The whole setup process is quick and easy. All you have to do is sign up then you can directly choose the templates to create a website of your dream. Once you set up your website, you can't change or modify its designs. 
WordPress:
WordPress is a much more powerful platform. But it is slightly more complex than Wix. It is highly flexible and gives you control on all aspect of your site. You can design your site with themes, add new features with plugins as well as make changes with CSS and PHP. It comes with easy to use Gutenberg block editor that helps you add/edit posts and pages.  Once you get hang of it, you can easily manage your site without any professional help.
Conclusion:
Here, It is a tie between Wix and WordPress.
Ecommerce: Wix vs WordPress
Wix:
Wix has a great eCommerce section that lets you sell your products online. It also has a feature to accept payment through different payment gateways. It is only good for small stores like selling T-Shirts, books etc. Wix eCommerce section is only available on their special store plans. Hence you'll have to switch to premium business and eCommerce plan that will cost you extra money.
WordPress:
WordPress is also a dominant eCommerce platform that accounts for 42% of eCommerce websites. You can start your eCommerce site with WooCommerce plugin. It is absolutely flexible and good for any kind of eCommerce websites. There are also lots of other amazing plugins and add-ons that good for services, events, subscriptions, and more. You can also find eCommerce compatible themes to set up your website the way you want. With the Easy Digital Downloads plugin, you can sell physical or digital goods easily.
Conclusion:
WordPress with wooCommerce is the best option for starting an eCommerce website.
SEO: Wix vs WordPress
Wix:
Wix's comes with several built-in SEO and marketing tools. It helps to optimize and audit your site's SEO smoothly, increase your rank position on search engines like Google. Wix can also guide you on indexing your website so that you can be found on Google, and can create and maintain a sitemap for you. 
WordPress:
WordPress has lots of powerful SEO plugins and tools for your website. WordPress has proper HTML markup, SEO friendly permalinks, title tags, headings, easy content creation, and optimized images that ultimately strengthens your sites SEO and google rank.
Conclusion: 
Although Wix has some great SEO tools, WordPress is the winner in the SEO category.
Pricing: Wix vs WordPress
Wix: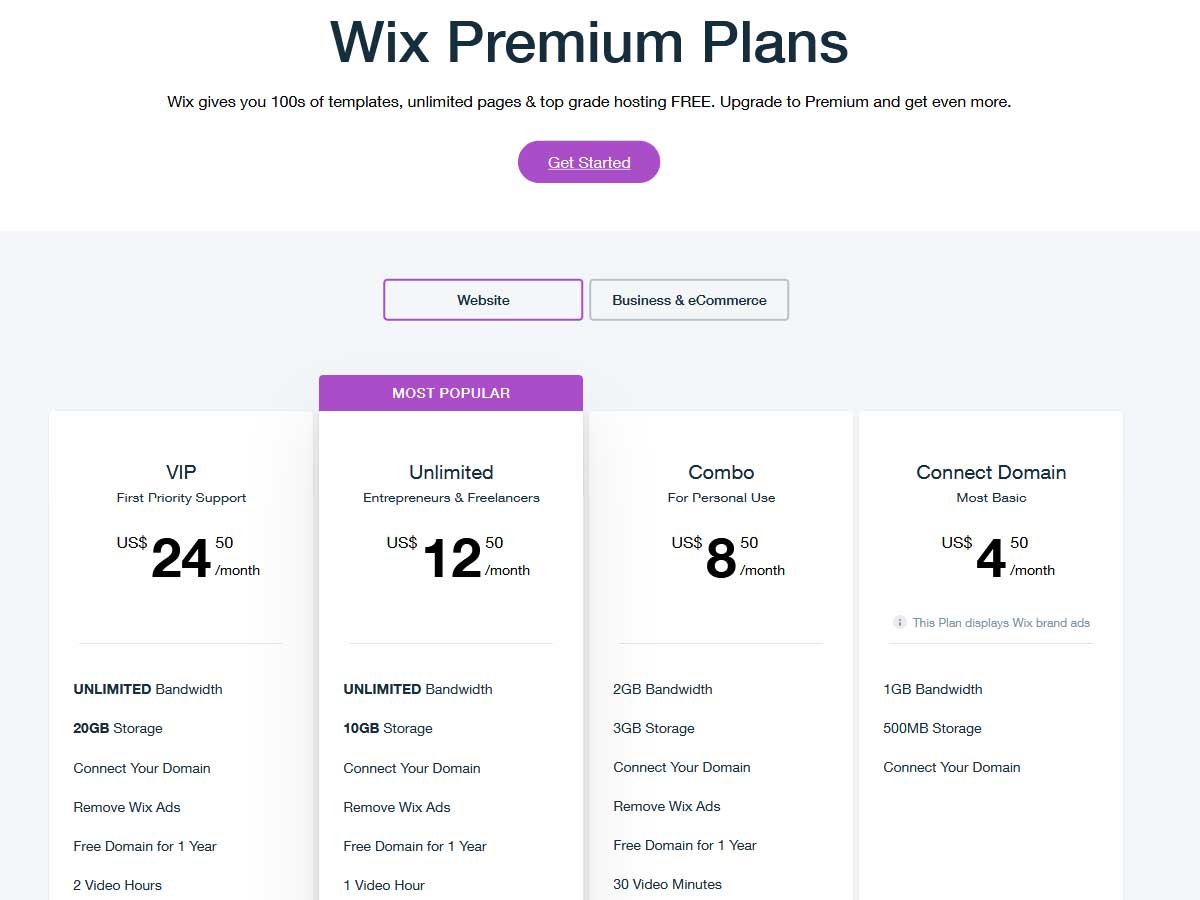 Wix has both free and paid pricing options. If you want to switch to premium plans, you can select from $4 connect domain plant to VIP plan of $24. There is also an option to choose a payment plan on either a monthly or yearly basis.
WordPress:
Technically, WordPress is a freemium platform but you could end up paying for premium themes, plugins and WordPress hosting service. 
For example. you'll have to pay around $4/month for hosting and $12/year for the domain name. If you want to use premium theme and plugins then you'll end up spending around $200 which is a one-time thing.
Conclusion:
Hence, we can say that WordPress is a better option than Wix when it comes to pricing.
Security and Support: Wix vs WordPress
Wix:
Wix provides support in the form of phone, chat, customer service emails in all their packages. You can also enjoy VIP support in much more expensive plans. Wix also focuses on the quality and security of its templates and apps. Wix is a far better choice to choose when it comes to security.
WordPress:
WordPress is free open-source software so they don't have any customer support feature. However, the WordPress community does provide many WordPress guides, documentation, tutorial videos and other stuff. Besides that, most of the WordPress company provides 24/7 support if you use their products.

WordPress is also one of the most secure CMS in comparison to another website builder like Wix. Furthermore, it comes with a lot of security plugins that provides high standard security.
Conclusion: Both Wix and WordPress are equally worthy in the context of website security.
Wix vs WordPress: Which One Should You Choose?
Both Wix and WordPress are great platforms to build your website from scratch. Both of them are easy to customize, come with a wide range of pricing, and offer tons of advanced features to build a lot of sites.
WordPress provides you with complete control over your website. Hence if you are looking for a CMS that gives complete ownership of data, flexibility and ability to add any functionalities then you should choose WordPress over Wix. 
Wix doesn't provide complete data ownership or the flexibility to customize your site. If you are looking for a simple and easy to use website builder that gets your work done without any hassle then Wix is the one for you.
Which one do you like the most? Write down your opinion on the comment section below:
You might also like other related articles: