How To Create Layouts in WordPress: WP Magazine Modules Plugin Review
For today's session, we handpicked the WP Magazine Modules plugin for a review.
WP Magazine Modules is a versatile and user-friendly WordPress plugin perfect for creating layouts for any kind of website, whether it be a magazine, news-portal, portfolio showcase or blogging sites. It has a drag and drop option that makes building a website easier and quicker.
Plugin is designed to perfectly work with Gutenberg and Elementor Page Builder. It comes with an exclusive different module to create a responsive magazine homepage and provides a unique design to your website. Apart from that, you'll get 20+ block layouts, dynamic color option, 7 different settings tabs, block column option, google fonts and flexible typography.
With this plugin, you can also display posts from multiple categories in a single block and assign different colors to each category. It also lets you display post elements like title, thumbnail, date, category, tags, content/excerpt, post-format, author etc and as well as show/hide meta for each post.
Key Features:
Compatible with Gutenberg Editor and Elementor PageBuilder
Successfully tested with WordPress latest version
Build up your magazine/news-portal/blogging site with easy drag and drop access
100% Responsive
20+ total block layouts
Multiple blocks with multiple variations
Block Columns Option
Multiple Category Select option – display posts from multiple categories in a single block
Display post elements like title, thumbnail, date, category, tags, content/excerpt, post-format, author
OrderBy and Order Options – display your posts in descending, ascending manner w.r.t to post date and title
Show/Hide option for metas, content, thumbnail, title.
Show/Hide post margin option, meta and buttons
Dynamic color options
You can add custom typography for each post elements in 10+ blocks
Flexible Typography option available for Block title, Post title, Content, Meta, Buttons
Multiple Google fonts comes with variations in font-weight.
Available 7- different settings tabs such as Basic settings, Query setting etc.
Installation and Activation
Installation process of the Magazine module plugin is similar to other plugins. Firstly, you need to download the plugin from the WordPress directory or official website and save the "wp-magazine-modules-lite.zip" file somewhere in your PC. Then, login to your WordPress account and follow the steps given below.
Navigate to Dashboard > Plugins > Click on Add New.
Click on the Upload plugin button and upload the zip file of the plugin that you downloaded earlier.
Finally, hit the install button. Once you've successfully installed the plugin, activate it.
Now that you've completed the installation and activation process, it's time to create our first layout.
Configure Modules
To get started, navigate to WP Magazine Modules from your WordPress admin menu. It'll lead you to the dashboard screen where you need to click on the create first template button.
In order to add a block, click on the '+' icon at the top of the left corner of the editor.
Now, you can simply type any block name in the search box and click on it or else you can directly select a block from the section. For the sake of this review article, I'll go with wp magazine post grid block.
Next, click in the more options > show block settings to access the General settings and Style settings.
Main Features:
Given that, we have already covered the plugin's installation and module configuration process, it's time to jump into some of the highlighted features of WP Magazine Module plugin.
Compatibility with Elementor and Gutenberg
As I've mentioned above, Wp Magazine Modular plugin functions great with popular page builders such as Elementor. You can design your website easily with the help of drag and drop page builders. Besides that, it is also compatible with the latest version of WordPress and Gutenberg editor.
Multiple Blocks with different Variation
Magazine Module WordPress plugin offers you all together 10 different blocks that will allow you to manage the content of your menus. These blocks come with different variations and each block at least two layouts available. However, you can get up to five layouts in the premium version.
Ticker: This block allows you to easily design a custom ticker and enable to add title, ticker label text, ticker label background and other option.
Timeline: This block lets you display posts and pages in timeline order. This feature comes handy when you want to show events in timeline fashion.
Banner: This block allows you to display the banner image and add the description, title, title link, and button options.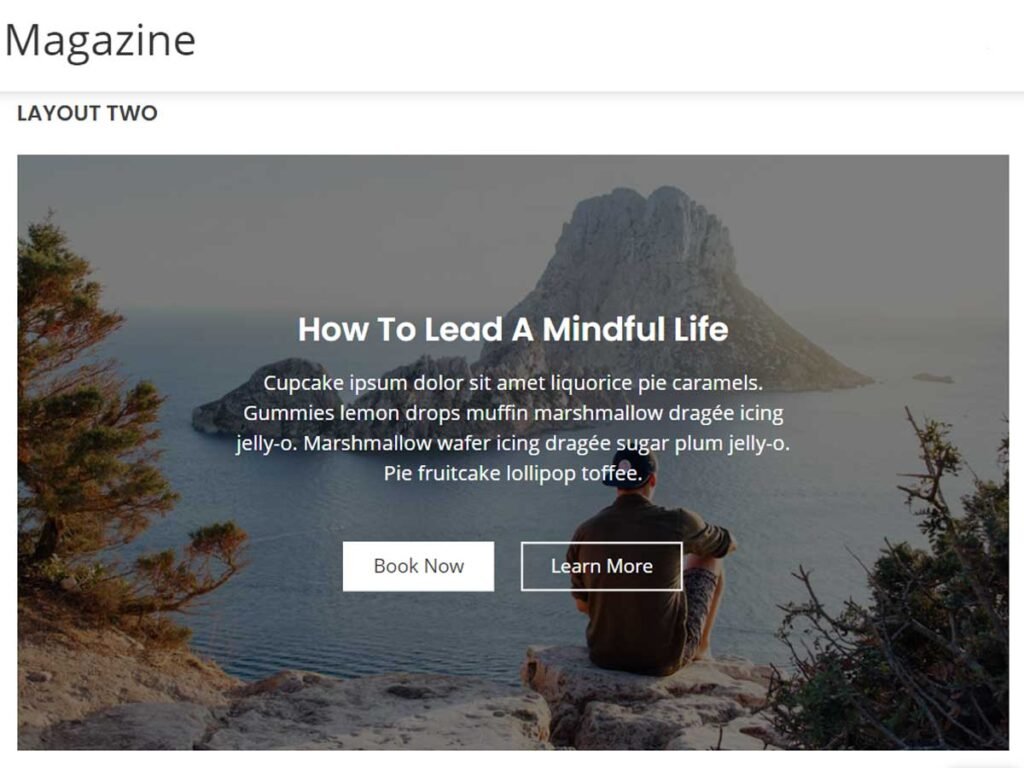 Slider: This block allows you to display a very beautiful slider in your blog posts that comes with eye-catching design.
Post Block: This block allows you to display a posts in a block layouts.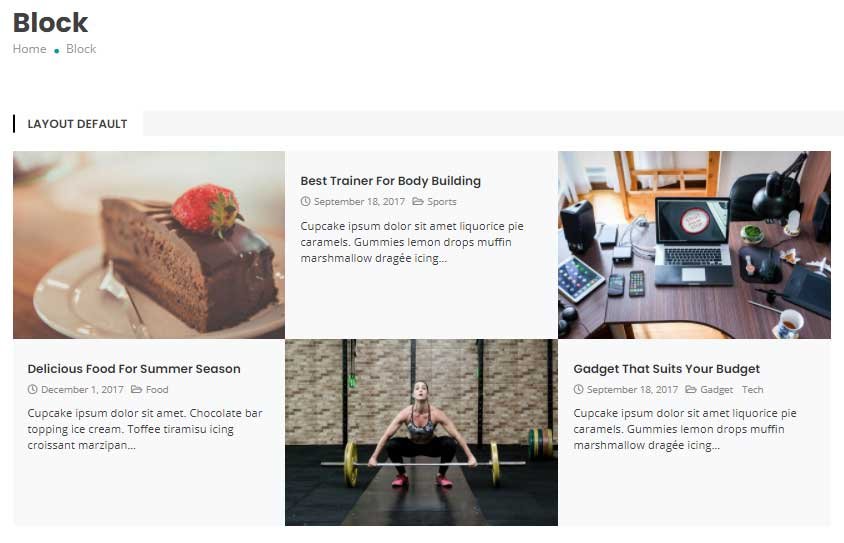 Post Tiles: This block allows you to display post tiles with post collection with slider and featured section.
Grid: This block allows you to display the post in an appealing grid layout and enable you to show thumbnail, content, categories, tags, and other more options.
List: This block allows you to display post and pages in a list layout and enable to show thumbnail, content, categories, tags and other more options.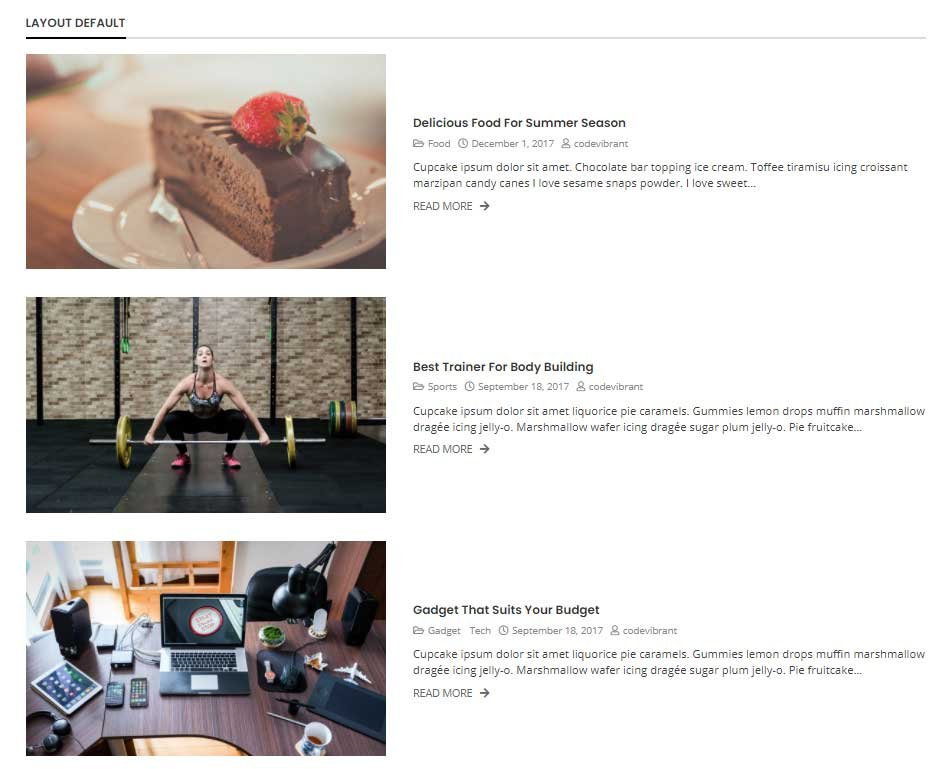 Post filter: This block allows you to filters posts using categories option.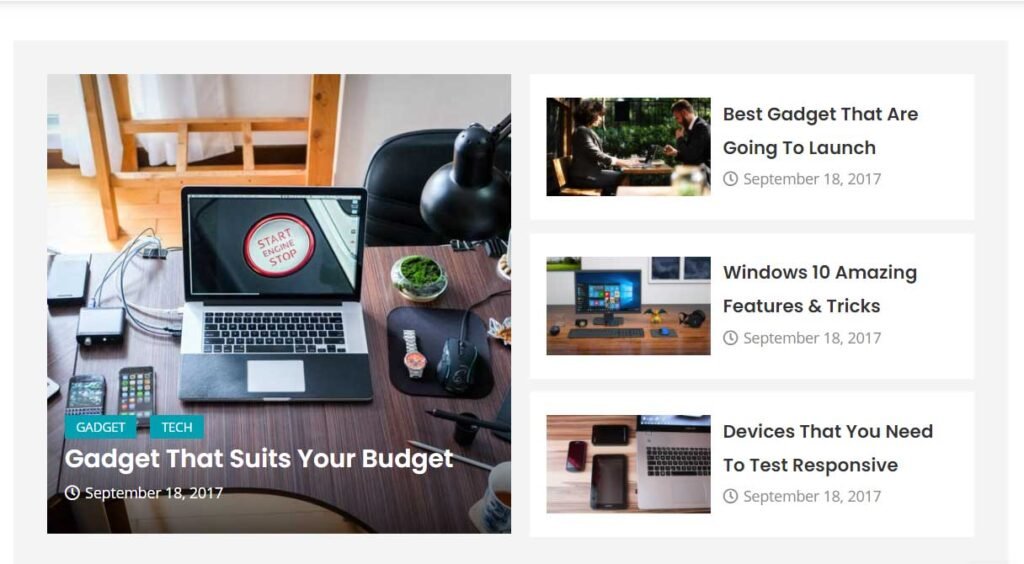 Post Carousel: This block lets you to displays multiple items in a carousel-like layout.
Category Collection: With this block, you can display collection of category in one place. It makes navigation easy for your visitors.
Every WP Magazine block has the General Settings and Style Settings panel. General Settings consists of five tabs: Basic, Query, Extra, Fallback, and Advanced. Similarly, the Style has four tabs: Layout, Color, Typography, and Advanced. From option available in these settings, you can configure every parameter of your layouts.
Support, Documentation, and Updates
WP Magazine Module plugin has a 24/7 active support team that provides dedicated and top-notch support. If you ever need help with the theme, you can reach out directly to the plugin support team and they will fix the problem for you.
The plugin also has detailed documentation and tutorial videos to help you get started with the theme. Furthermore, the developer team also frequently pushes new updates by adding new features and bug fixes.
Pricing
WP Magazine Module is reasonable and affordable. This awesome plugin cost you only $39. This much cost seems reasonable for all the feature this plugin has to offer.
This plugin also has a free version available for you. WP Magazine Modules Lite is the freemium version of this plugin. It comes with basic features that is more than enough to create awesome layouts for a magazine and news website.
Why WP Magazine Modules is Better Than Other Modules?
WP Magazine Module comes with powerful features that allow you to design layouts for magazine and news site with the help of drag and drop interference. It is compatible with Elementor and Gutenberg which makes it super easy to configure. Apart from that, it offers 600+ Google fonts, responsive, pre-made layouts, arranging post order and so on. It is also well documented and offers video tutorial and awesome support.
Hence, it won't be wrong to say that WP Magazine Module is one of the best WordPress magazine plugins. If you are starting a WordPress magazine website, then download this plugin and enjoy what it has to offer.
What is your opinion about the WP Magazine Modules plugins? Let us know in the comment section below.
If you liked this article, you can also follow us on Facebook and Twitter.
Other Articles: