How to Add Contact Form in WordPress-Beginner's Guide
  How to Add a Contact Form in WordPress
Do you want to create a contact form on your website?
Beginners often don't think that adding a contact form is necessary. It is the best way to let your visitors communicate with you. You can easily create a contact form without any coding knowledge.
In this article, we'll cover step by step guide on how to add a contact form in WordPress.
Why You Should Add a Contact Form?
Contact form is super beneficial for both you and your audience. It makes it easy to communicate with the audience. Hence, it increases the user-experience and visitors engagement. Your website will have a more professional and appealing look with contact form. It also protects your website from spam and malicious email. Additionally, it also helps you to organize all the contact information.
Add Contact Form in WordPress
First of all, you have to select and choose the best plugin. I am going to use WP Forms because it is feature-rich and beginner-friendly. Then, install and activate it on your WordPress website. Now, that you have installed a plugin, It's time to add a contact form in WordPress.
Go to WP Forms>> Add New.
After that, enter your form name in the box and choose a simple contact form template from available options.
You'll see a simple contact form template that includes name, email address and messages. If you need additional customization fields then drag and drop required fields from the left-hand side.
Once you are done click on the save button to continue.
Configure Contact Form Notification
In order to configure a notification, go to Settings>> Notification within Wpform editor. The notification settings and fields are already adjusted as well as ideal for beginners. Hence, you only have to make sure that notification is on from drop-down option.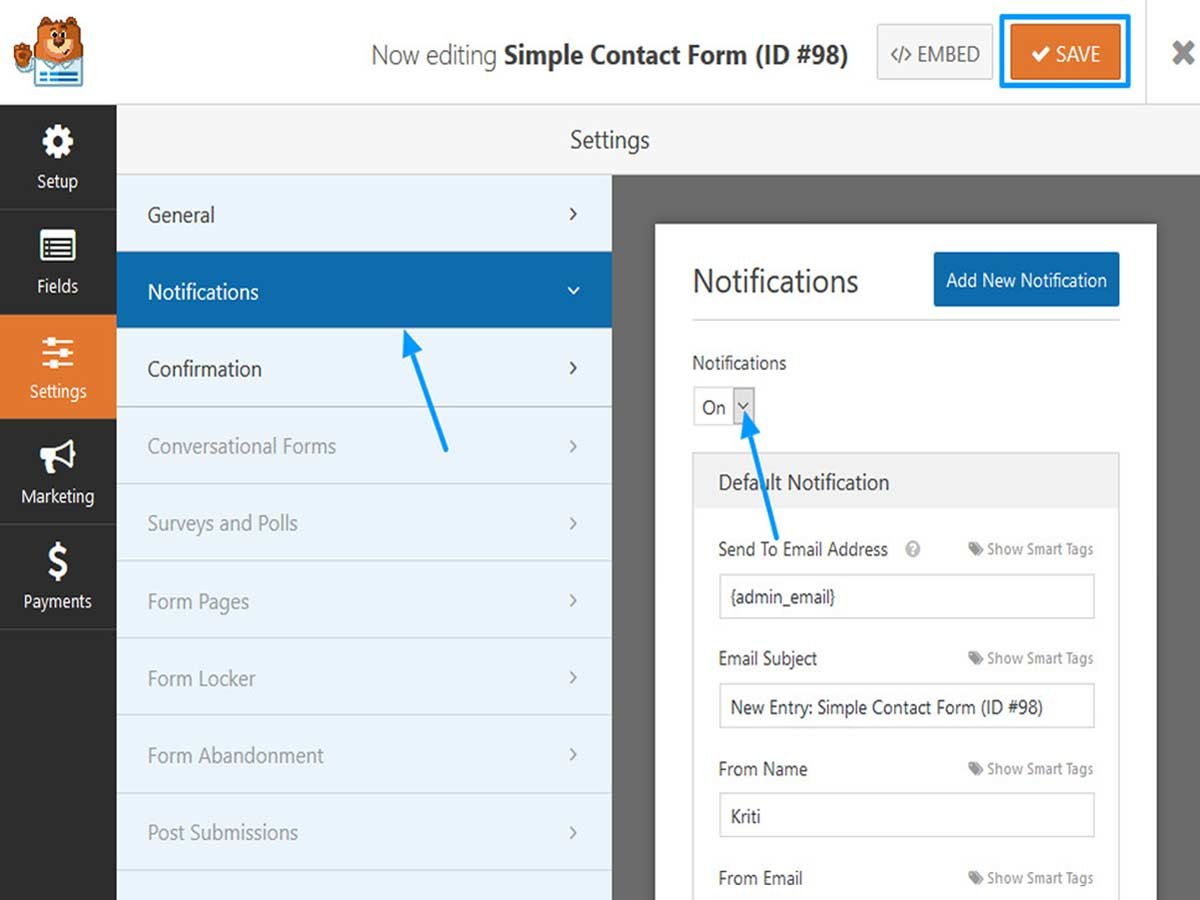 By default, notifications are sent to the Admin Email. If you want to get a notification on a custom email address, then you can change that from here.
Add Contact Form in Post and Page
It's very easy to add a contact form to WordPress post and page with WP Forms.
To do so, create a new post or edit the existing post and click on the plus icon.
Next, add WPForm block as shown in the image below.
Then select the form that you created earlier from available option to add contact form in post.
Finally, publish it and view the result on your page.
That's it! You have successfully added a contact form in WordPress.
Wrapping Up
To wrap, you can create a contact form in WordPress easily by following these step by step guide. We hope you find it helpful. You can also follow us on Twitter and Facebook.
If you have any queries then write us down in comment box below.